Tuesday, March 24th
El Rio
3158 Mission St, San Francisco, California 94110
$8 / 8pm

February 13, 2009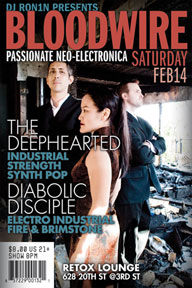 Saturday, February 14th
The ReTox Lounge
628 20th Street, San Francisco, California 94107
w/
The Deephearted
Diabolic Disciple
Spetember 9.26.08 @ Make Out Room
The APAture Festival
The Make Out Room
3225 22nd Street, @ Mission Street, SF
7.30-9.30 p
Flyer
September 9, 2008
Last minute notice!
Live show at The Retox Lounge tomorrow, Sept. 10th.
628 20th Street, San Francisco, California 94107
Doors open at 9:00pm! Come join us!
August 25, 2008
New Pics!!!
We have some new pictures up in the Photo Gallery section. Check it out here.
August 24, 2008
Podcast Episode 6
A new episode detailing our rehearsals, upcoming shows and more!
Check it out along with our blog. You can find it at bloodwire.blogspot.com

July 27, 2008
New Show Added!
We will be playing Julie's Supper Club in San Francisco on 8/30/08 @ 10PM
as part of their Swing Goth night,
and is also a record release party for The Deep Hearted.

We will be premiering several new songs from our upcoming album,
and perhaps a new music+chocolate tie-in!

July 6, 2008
4 !!!!
In this episode, we reveal the name of the new song which we premiered in episode 2.
We also talk about Patrick playing drums for Stripmall Architecture, a new incarnation of Halou.
They have 2 gigs lined up:
The first is at Club Violaine in LA on 7.19 along with Solar Powered People.
The second show is at Cafe du Nord on 8.13 along with Foxtail Somersault and French Disco.
Shawn is playing guitar with Slave Unit at the inimitable 924 Gilman in Berkeley on 7.18
along with the one and only Babyland, The Prids, Swann Danger, and our friends from Sacramento, Savior.
As with all gigs at Gillman, THIS IS AN ALL AGES SHOW!!!
April 18, 2008

3 !!!
The third episode of our podcast is now available.
Check it out along with our blog. You can find it at bloodwire.blogspot.com
In this episode, we introduce Patrick, our drummer. We talk a little about our history, how we met him, and some other cool little facts.
March 31 2008
Episode 2
We've recently started a podcast, and our second episode is now available.
Check it out along with our blog. You can find it at bloodwire.blogspot.com
In this episode, we premier a new song. We need your help to come up with a name, so check it out and let us know!
Asian American Musicians Showcase
Thursday, September 14th
Red Devil Lounge
1695 Polk Street (at Clay), San Francisco, CA 94109 [mapquest]
8pm . 21+
$5 (Advance) $7 (night of show)

W/:
Jumping Jacks
Neko Punch
Say Bok Gwai

+ DJ Steena Lynn<
Hosted by Tin Fan

Click here for info + check out more great shows at the Red Devil Lounge


July 26, 2006

S H O W S

Black Sun Festival II - July 29th, 1:00pm at The Alchemy.
with:
Interrogation
Caustic
For more info on the festival, click here.

We'll be sure to put up some pictures on our BLOG and keep you posted on our adventures!

P O D C A S T S

Want to hear a cool internet radio show that features unsigned/independent female musicians? Check out NetteRadio hosted by our friend Annette Conlon of the Dallas rock band Eden Automatic. She will be playing our song 'More Than Life' during her podcast on Wed. July 26th between 6-8pm (PST). Don't miss it!

May 17, 2006

I N T E R V I E W S

Shawn did an interview with the RockPop Gallery about the artwork for Transformation. Read it here. While you're there, check out some of the brilliant and amazing works available for sale, including the greatest album cover photo ever made.


P O D C A S T S

Bloodwire was recently featured on the Sonic Spotlight podcast. We had a great time hanging out with War-N and Christa of Hungry Lucy and discussing music and music related accessories. More discussions on artwork, Transformation and I-Li explains how and why she got into singing. You can download it directly or subscribe at SonicSpotlight.com.


We were also recently featured on BinaryStarCast.com(episode 20.) You can download it here.

Bloodwire are playing The Blacksun Festival this year in New Haven, CT. July 28 - July 30.
We are playing an early afternoon show on Saturday (29th).
The awesome and inimitable Caustic will also play, and this will be the debut show with our new drummer, Patrick.
Get the full schedule of events here.


April 28, 2006


OH, Ohio!!
Friday, May 5th - ELECTROFEST 2.0 - Cincinnati, OH
This is a benefit concert for Save The Animals Foundation. Get all the info here.


January 5, 2006

The cover photo for Transformation just won best photography in the Independent Music Awards! put on by The Musicians Atlas.
The cover will be included in the 2006 edition, available at fine bookstores everywhere.
You can read about the Shawn's process for creating the artwork here.
Additionally, We were finalists in the best pop/rock song category for More Than Life.
We didn't win, but will be featured in their jukebox throughout the year.

Transformation is now available for download at all the usual spots: iTunes, Napster, Yahoo Music, MSN, and
our great friends at Radio Free Abattoir (where all Bloodwire songs are just $0.88!!!). Click here for more info.




Check out the tour diary for all the stories from the road.

Shawn finisished the Transformation recording diary. Read all about the love and drama that went into it's creation.

If you are interested in booking Bloodwire, please send a note to shawn@bloodwire.com or check out our Contact page.

Feel free to download our SonicBids Electronic Press Kit. It has additional photos and mp3s!

Transformation is now available for download at all the usual spots: iTunes, Napster, Yahoo Music, MSN, and many others. Click here for more info.

Check out the tour diary for all the stories from the road.

Shawn finisished the Transformation recording diary. Read all about the love and drama that went into it's creation.

If you are interested in booking Bloodwire, please send a note to shawn@bloodwire.com or check out our Contact page.

Feel free to download our SonicBids Electronic Press Kit. It has additional photos and mp3s!


Back to Main News